Hacking Covid-19 challenges during the #EUvsVirus hackathon
When COVID-19 started to spread at an incredible speed, there were lots of companies that had to quickly adapt. Not MCRO, though, as we are strong believers that people can also be productive from their homes. We even encourage this practice, and if you haven't had a chance yet, check our article: Adopting a remote-first company culture in the time of Coronavirus.
The Coronavirus outbreak has urged a lot of people to step up to help others in any way they can. From volunteering to making donations and getting involved in research, everyone is contributing in some way. Of course, we could not just sit and wait!
This is how MCRO decided to be a part of the biggest hackathon online organised by the European Commision with a clear focus: create solutions to help the people and businesses impacted. There were over 22 000 people and over 2 000 solutions submitted meant to treat different subjects: from health&life to business continuity or fintech.
So here we were on April 17, signed up for one of the biggest challenges ONLINE: EUvsVirus Hackathon.
Forming
One of the principles of Agile Manifesto says:
        "Business people and developers must work together daily throughout the project."
And that's exactly what we did. Using online tools such as funretro.io, we invited everyone to collaborate in a brainstorming session. Agile encourages having the engineers and the business people work together. So what better way to do so than starting from the ideation phase?
Everyone had a chance to bring his crazy ideas to the table and had 2 minutes to convince the rest of the team members that his solution is the best.
You can imagine that there were a lot of great suggestions that we wanted to implement, but since we are democratic people, we've decided to vote and from there on, 3 ideas would go further and be analysed.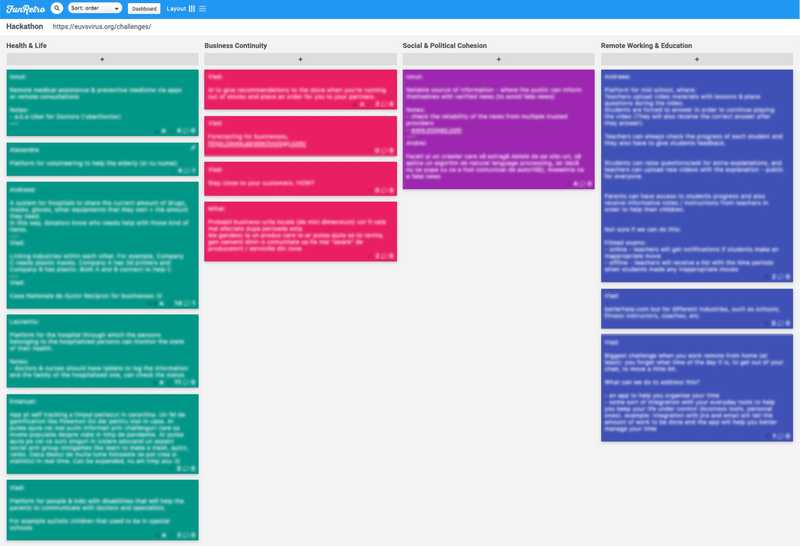 Storming
Once we went down to 3 ideas, that's when all the discussions came into play: pros and cons, what should be a basic feature, what should be innovative, how much is too much? You can imagine that this is how our final project started to shape up.
Bringing all the discussion together and analysing our ideas, we reached a final conclusion: a project that could combine 2 ideas together and with a little bit of imagination could even include the 3rd one.
That's how our DocViser.io idea started to shape into a product.
Another Agile Manifesto principle says:
        "Build projects around motivated individuals."
Because everyone had taken part in the ideation process and had contributed with their own ideas, we started building the solution with a team of highly motivated people. That's like 50% of the project, already complete 😁.
Norming
Being a 3 days hackathon, without the proper team and without some principles in place, everything would have gone haywire! In one of the other blog posts, we were talking about effective Project Management. We did nothing more than follow those few steps to get us ready for the submission day!
Another Agile Manifesto principle, says:
        "The best architectures, requirements, and design emerge from self-organizing teams"
Tools such Miro have proven to bring a lot of value. With pre-existing templates, we saved a lot of time when we had to prepare the necessary material:
Competitor analysis
SWOT analysis
User Story mapping
User flow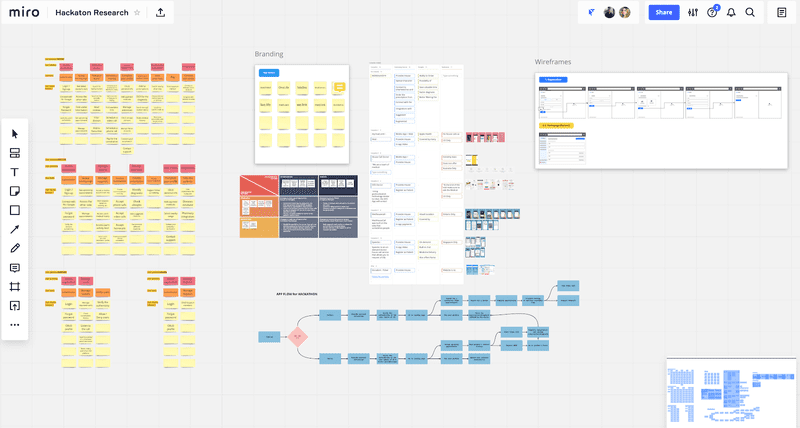 Design is also an iterative process. Starting with some basic wireframes, in no time, our solution has started shaping up. During a hackathon it's hard to expect perfection and there is no time to think of all the little details that can make a difference for the user experience, but with the right support from the engineers, the implementation was ready in no time.
Another Agile Manifesto principle says:
        "Continuous attention to technical excellence and good design enhances agility."
The whole process has been a collaborative one where design and development had to happen side by side, in order to fit the tight schedule. Needless to say that by the end of the hackathon everyone started to remember the importance of collaborating, process that in most teams has become a delicate subject. How many times did you hear discussions such as:
This design is BS, cannot be implemented in the given time!
Frontend team is coming up with a lot of reasons why this should not be implemented
It was great to see once again that this type of partnership that we've created at MCRO between business, design and engineering proves its effectiveness.
Performing
During the last 2 days of the hackathon the team was already self-sufficient and ready to move mountains. In just a very short time, along with motivated people, fighting against one of the biggest threats, a bunch of people started working like a single entity from remote locations.
The final results?
Enough documentation to continue developing the project
Design screens ready to be implemented
A Business Plan ready to take this idea further
...and the last, but not least, a solution: DocViser.io!
If you are curious about our project, checkout this video.